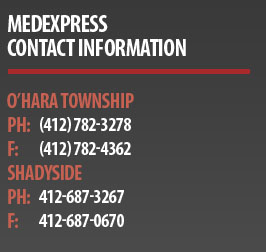 MedExpress Urgent Care is a privately-owned company seeking to provide a customer-service approach to medicine, minimize wait times and address the need for world-class, compassionate patient care.
MedExpress Urgent Care is a full-service, walk-in health care clinic offering medical treatment to all ages for illness and injury. There are no long waits. You will be seen by a team of medical professionals offering world-class customer service. The welcoming environment includes multiple treatment and exam rooms offering privacy, cleanliness, and comfort. There is always a medical doctor on-site. Most insurance is accepted, but not required.
MedExpress Urgent Care is open twelve hours a day, every day. There are no appointments – just walk in when you need us. Most patients are seen and treated in under an hour. Easy access and free parking are available at all MedExpress Urgent Care locations.